Double Helix Society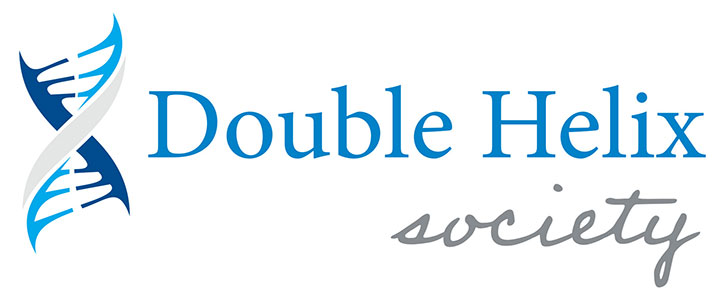 You have the power to advance genomic research that can lead to life-changing and lifesaving discoveries. Planned gifts are more important than ever to ensure HudsonAlpha's long-term success and vitality. They could also provide significant tax benefits – even income – to you and your family.
Donors who support HudsonAlpha through estate planning are members of the HudsonAlpha Foundation's Double Helix Society. This committed group of supporters enjoy benefits such as recognition in the annual report, name on the Double Helix Society donor wall and an invitation to the annual society luncheon.
To designate the HudsonAlpha Foundation as a recipient of your planned gift, simply call 256-327-9434 or email jemoore@hudsonalpha.org to speak with Jeff Moore. Click here to download our planned giving brochure.
"Contributing to organizations like HudsonAlpha supports not only your family, it provides much needed assistance to many other families as well," said Chris Hinson, Estate and Trust Attorney/Hinson & Hinson, P.C. "Charitable planning is a wonderful and satisfying way to leave a legacy that supports many individuals and families far beyond your immediate family, allowing you to leave a positive legacy for our community."
Membership benefits include:
Name on Double Helix Society wall
Annual Double Helix Society luncheon
Naming opportunities available for irrevocable gifts
The Double Helix Society was formed in 2015 to recognize those donors who include HudsonAlpha in their estate or long-term gift planning. These supporters are in many ways the foundation of HudsonAlpha's future.
DHS Members:
Anonymous
Pam and Joe Alexander
Nancy and Danny Archuleta
Johanna Cleary
Voncille Cleary
Harvey Cotten
Paula Cushman
Edna and Jerry Deener
Estate of Tony DiCerbo
Sharon Doviet and Chris Russell
Estate of Nola and Frank J. Eiser
Jency Eldridge
Kathy and Steve Gilder
Ona and John Hamilton
Dorcas Harris
Lynn and Jim Hudson
Carole and George Jones
Terry and Herb Lewis
Helen and Lonnie McMillian
Sandy Moore
Sue and Roy Nichols
Estate of Ruth and Foster Oliver
Pat and Gene Sapp
Elizabeth and Clarence Schrader
Nancy and Ray Sheppard
Patsy and John Shields
Susan and Bill Sommers
Lynne Berry Vallely
Charles Vaughn
Jane and Frank Vaughn
Gus Weisler
Pamela Barratt White
Leslie and Danny Windham
Wendy Yang and Rick Myers