Herb and Terry Lewis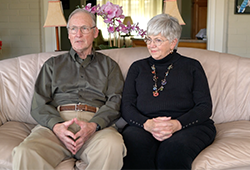 Herb and Terry Lewis are long-time Huntsvillians, calling Huntsville home for more than 50 years. They attended the first HudsonAlpha Institute for Biotechnology Biotech 101 program in 2008 and continue to be captivated by the advancements at HudsonAlpha in research, economic development and education.
When Terry was going through chemotherapy treatment during breast cancer, her doctor recommended a test that was available through HudsonAlpha that gave insight into which chemotherapy drugs might work best for her. Terry took the test and those results informed her decision on what type of chemotherapy to pursue.
"From that time on, we were sold on HudsonAlpha," said Herb. "One test took a lot of pain out of Terry's experience. Since then, we have been contributing, working with and watching [HudsonAlpha] closely."
The Lewis' first introduction to HudsonAlpha was Biotech 101, a year before Terry was diagnosed with cancer. After her diagnosis, she recognized many of the same words and terms from the Biotech program, but she couldn't quite put the pieces of the puzzle together. So, Terry called HudsonAlpha and asked if she could take Biotech 101 again. She did and she learned so much more from that session. Since then, the Lewis's have only missed one Biotech program in more than ten years.
"Anything I can participate in with HudsonAlpha gets me so excited," said Terry. "The people are so down to earth, but they are doing so much good for the world. We are just a small part and if we can do anything to help, we want to."
The Lewis' continue to support HudsonAlpha as one of their philanthropic interests through annual giving and as members of the Double Helix Society, HudsonAlpha's planned giving society.