Sharing my Passion – Dorcas Harris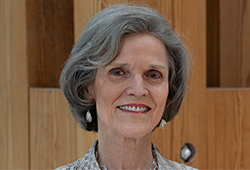 Thirty years ago, in 1989, I went to work at Huntsville Hospital Foundation to set up their planned giving program. I felt like I had found my life's purpose there because that job gave me so much satisfaction. But as much as I enjoyed my work, I can honestly say now that it's even more satisfying to BE a Planned Giving donor than it was to solicit those gifts from others.
When you love an institution as much as those of us in this room love HudsonAlpha, it just comes naturally that we want our support to last beyond our lifetime.
I knew from the beginning that HudsonAlpha was a place I wanted to invest in with both my time and my resources. I became a major donor and I've been an Ambassador since that group was formed. Over the years, I have developed a deep, abiding passion for the mission and purpose of this Institute, so it was a given that I wanted to include HudsonAlpha in my estate plan.
My congratulations to the team for building a great, effective Development program, and in particular, for putting an emphasis on the importance of planned giving. Because of gifts to the Double Helix Society, your work has the potential to reap enormous benefits for HudsonAlpha well into the future. And, finally, thanks to all of you for sharing my passion and acting on it!